Church News and Upcoming Events:
 
Prayer Meeting meets every Wed. evening at 7:00 p.m.    New study for prayer meeting will be Hosea:  The Man-the Prophet-The Message.  You will be blessed!
​Fellowship Meal, Feb. 4
Plan to join us and bring plenty of food to share!
Week of Prayer and Spiritual Renewal There are 7.7 million people who live in the two states of Arkansas and Louisiana. With just over 13,000 members in 110 churches, there is room for more. Jesus gave the example in the story of the last lamb. The sisterhood of churches in Arkansas and Louisiana are invited to a week of prayer and spiritual renewal as we embark on another year of mission, ministry, and service in our conference. Join us through live-streaming, January 29 - February 3, 2023. Each evening at 6:30pm there will be a thirty minute emphasis on prayer and renewal as we invite God do something unlike He's ever done before. What if we could find 1% more for God's Kingdom in 2023? That would be over 77,000 people! Impossible for us for sure—but totally possible for God. More details available at www.arklac.org.
Total Life Community Center Events:
Estate Planning  Seminar
 at the TLC Feb. 12 – 2-4 p.m. with Joel Kurtz, attorney.  Light soup tasting and dessert will be included, along with information on more community programs the TLC is planning for this year.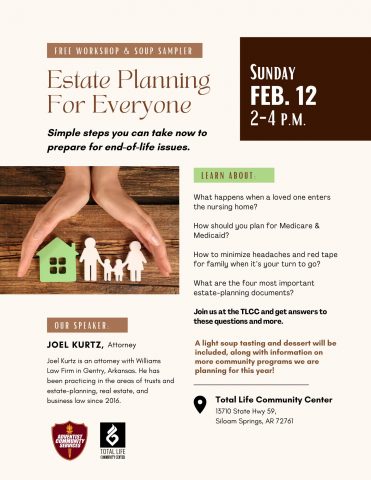 Food Distribution: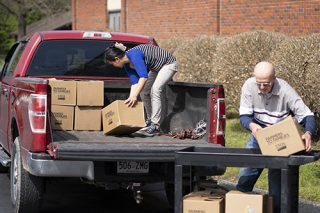 Thursdays at 10:30
In the book , The Desire of Ages, Ellen White once wrote that Christ's "willing hands were ever ready to serve others." On Thursday mornings at around 10:30 you'll find members of our church in our Youth Center manifesting the same type of spirit. 
Anyone who is interested in helping to meet this need may contact Marti Cash or call the church office at (479) 736-8808.
---
Misc. Info
Sabbath School quarterlies are available online HERE.
To keep up to date on more news and events at the Gentry Seventh-day Adventist Church, please check the weekly announcements.